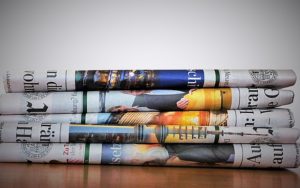 Every organisation spent a sizable share of the total advertising budget on advertising in newspapers. In India, there are both English and newspapers in regional languages. Some of the famous newspaper in India are The Hindu, Times of India, The New Indian Express, Dinakaran, Dainik Tribune, Malai Murasu, Malai Mani etc.
Newspapers are bought largely for their news value. Newspapers are a suitable medium for goods requiring mass advertisement. Newspaper advertisements must be 'catchy and attractive'. The message should be 'short and suggestive'. Gripping headlines, attractive pictures and catchy slogans may be used to make the appeal effective.
Advantages of Newspaper Advertisement
i) Newspapers reach every nook and corner, so his or her coverage is high.
ii) They reach the public at a lower cost than any other medium.
iii) High frequency enables speedy preparation and publication of advertisement.
iv) They offer a lot of flexibility. According to the convenience and necessity of the advertiser, the shape and size of the advertisement could be changed.
v) Visual appeals could be created.
vi) The selling message reaches the public while it is fresh. It pinpoints the shopping opportunities and thus makes quick results.
Disadvantages of Newspaper advertisement
i) Illiterate people cannot understand newspaper advertisements.
ii) The life of a Newspaper is very short. If the advertisement is not seen on the day; it appears in the newspaper, it goes waste.
iii) If prospects are limited in number, advertising in the newspaper may be ineffective.
iv) Often the persons expected to read the message miss to read the advertisement.
v) Only colour advertisements are more effective, but they are very limited and costly.