NSDL, established in 1996, is today one of the largest Depositories in the world. As a depository, it enables holding of shares and other types of securities in electronic form i.e. dematerialize form. By holding a Demat account, one can own the securities in electronic form and transfer any security from his / her Demat account to any other Demat account. The interlinks between Depository and various other stakeholders in the capital markets are shown below: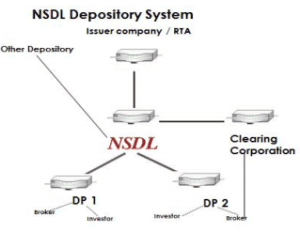 NSDL's contribution to Indian Capital Markets has made it one of the Leading Capital Markets on multiple fronts in the world. With the adoption of state of art technology for various products and services and un-matched reach within the country, NSDL has won the trust of investors and other intermediaries, thus standing true to its tag line – Technology, Trust & Reach. NSDL provides a bouquet of services to investors, stockbrokers, stock exchanges, custodians etc. through its network of more than 275 DPs (Depository Participants). Many big banks (nationalized, private and co-operative), stockbrokers and financial institutions have joined NSDL as DPs. NSDL DPs are operating from more than 30,700 service centers spread across the country, and few in abroad too.
List of NSDL DPs and their service centers is available at https://nsdl.co.in/dpsch.php.